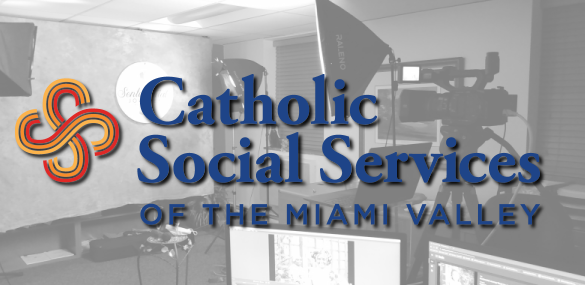 PROJECT INFO
NAME: Catholic Social Services Of The Miami Valley
About The Client…
Catholic Social Services of the Miami Valley is a non-profit social service agency serving Montgomery, Greene, Preble, Miami, Shelby, Mercer, Darke and Auglaize counties, with limited services also offered in Champaign and Logan Counties. They provide a continuum of services for children, teens, adults, families, seniors and people of all faiths. Programs of CSSMV build families and help empower individuals through actions of faith, service and charity. 
A Pandemic Hits Home…
Catholic Social Services of The Miami Valley contracted WeDoVids to handle their marketing photography needs in early 2020. Shortly thereafter, very suddenly and unexpectedly, the whole world was faced with the Covid-19 pandemic. This severely limited fundraising event efforts, and all events had to become virtual. For most of the world, this was a new challenge. "Virtual" if offered at all, was an optional component of an organization's fundraising efforts, not an essential one.
Catholic Social Services approached WeDoVids with an ambitious plan to tell their organization's story, program by program throughout the summer and fall leading up to the main event which would be live-streamed (only).
Ongoing Collaboration…
We continue to provide Catholic Social Services with photography and video services.    In 2021, with the pandemic still looming, we produced a handful of videos for Catholic Social Services of the Miami Valley's 100 year anniversary.  We also provided live streaming services for their annual meeting where these videos premiered.