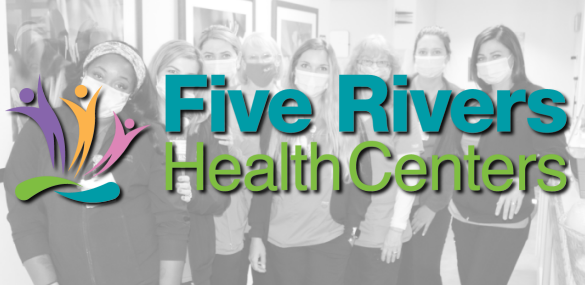 PROJECT INFO
NAME: Five Rivers Health Centers
About The Client
Five Rivers Health Centers began on May 23, 2011 as a medical home for the low-income patients of Dayton, Ohio, by providing both primary and specialty care services to patients through the academic rotations for the Wright State University Boonshoft School of Medicine (WSUBSOM) residency and fellowship programs.
Combined Five Rivers Health Centers, currently serves more than 25,000 patients with more than 87,000 visits in the Greater Dayton community.
Five Rivers Health Centers on WeDoVids:
"Five Rivers Health Centers has used WeDoVids exclusively for our photography and video work in the last year and we are THRILLED with the results. Brian and Sarah are extremely dedicated and professional, always willing to go to the extra effort to make the final product perfect. They are responsive, easy to work with, happy to listen to our needs and very talented. The videos they have created for us are top-notch and are a perfect representation of our organization and our mission. They go above and beyond on customer service and are extremely focused on providing a fair and reasonable price for non-profits like us. We highly recommend them and are proud to call them partners!"
Kim Bramlage
Marking and Communications Manager
Helping an Organization Grow…
WeDoVids has been exclusively providing corporate headshots for the staff as well as providing a wide range of video production services.
We have provided marketing videos, including a virtual tour.   Drone fly-overs following construction progress and provided extensive coverage of the topping off ceremony for their new facility.  
Edgemont Campus Construction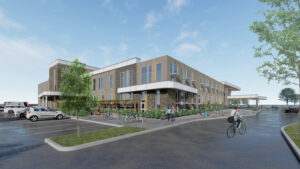 Beginning at the initial groundbreaking, we have followed Five Rivers Health Centers on their journey of consolidating a handful of their facilities into a new $30 million, 80,000 square foot center.  This facility will offer a "one-stop" shop for patients: additional exams rooms, drive-through pharmacy, community space, and on-site laboratory and x-ray.   The Edgemont Campus will be built for growth and will serve as a catalyst for more positive economic development in the community. 
We provided event photography and video for the initial groundbreaking.  Several local television channels did not make it in time to capture the groundbreaking.  Within hours we where able to compile a news package for the local news stations. 
Ongoing Collaboration…
As time goes on, we continue to find impactful and meaningful ways to use multi-media to further the mission of Five Rivers Health Centers.  We have provided "progress reports" on construction progress while gathering material for a full documentary of the journey of this new facility.   We provided photography for the the ribbon cutting ceremony.  WeDoVids was also tasked with providing a multicamera live stream of the event.
As the doors prepared to open, Five Rivers commissioned artists from the area, whose artwork graces the interiors of the entire facility.  As you walk into the main entrance one piece of artwork stands out.  We produced a video of the artwork's installation and chatted with Terry Welker, the artist.  Have a look.
Photography
Here is a sample of some of the photography we have provided for Five Rivers Health Centers in recent months.